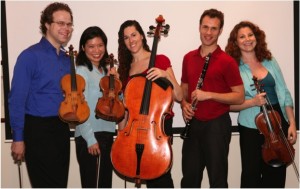 NY Philharmonic Senior Teaching Artist
For seventeen years, I wore many hats at the New York Philharmonic.  I gave pre-concert talks for subscription concerts; led workshops for teens & pre-teens attending dress rehearsals; performed, composed and arranged as a member of the Teaching Artist Ensemble; helped kids and teens compose and orchestrate original compositions for chamber ensembles, as well as the full orchestra; led professional development for Teaching Artists; toured and held residencies abroad through Philharmonic Learning Overtures; and was occasionally featured as a soloist, chamber musician, composer or Young People's Concert host.  (Whew!)  I still maintain an active relationship with the orchestra's education department and stellar Teaching Artist faculty.  For more information visit nyphil.org/education.
The Juilliard School
At the Juilliard School, I enjoyed shaping the Morse Teaching Artist Fellowship for its first twenty years.  After spending four years as a Morse Fellow, went on to train teaching artists through teaching the The Arts in Education graduate seminar, as well as the Summer Teaching Artist Intensive when it began in 2012.  I mentored Morse Teaching Artist Fellows who created yearlong residencies in partnership with public school teachers.  I further supported their work through field observations, as well as group and one-on-one consultations.
The Academy: A Program of Carnegie Hall, the Juilliard School, and the Weill Music Institute
The Academy is an intensive two-year post-graduate fellowship in which twenty of the world's top classical performers enjoy a rigorous performance schedule in Carnegie Hall, Lincoln Center, and other notable venues while working as Teaching Artists in New York City Public Schools. Since its founding, I supported Academy Fellows' work by coaching ensembles & individuals, making field observations, planning and leading professional development with Academy staff, and composing arrangements for Ensemble ACJW's Carnegie Kids' concerts and international tours.
The Community Engagement Lab (formerly Orchestra Engagement Lab):
The Community Engagement Lab (CEL) pairs a consortium of orchestras with engaging soloists and composers. Each year, the Lab commissions a new work, while planning community engagement and Teaching Artist training from the work's inception.  During the summer, the CEL establishes a network and think tank as groundwork for the new work begins. I collaborated with conductor Paul Gambill and Teaching Artists Eric Booth and Richard Mannoia in the inaugural year, which commissioned Kenji Bunch's electric violin concerto, "Embrace" for soloist Tracy Silverman.
Lincoln Center Education / Lincoln Center Institute:
I began working as a Teaching Artist for the Lincoln Center Institute in 1997, holding short-term residencies and preparing school audiences from pre-kindergarten through twelfth grade to hear musical performances. Soon, I found myself training other Teaching Artists and teachers, working to plant or mentor sister institutes in other cities, and eventually consulting and participating in think tanks that developed rubrics, assessment, and philosophical underpinnings of "the work." However, the highlight for me will always be touring three weeks as a featured "work of art" with The Doc Wallace Trio
MUSIC UNLOCKED!:
Music Unlocked! was a Teaching Artist ensemble and supergroup consisting of composer Thomas Cabaniss, flutist Tanya Witek, clarinetist Richard Mannoia, hornist Misty Tolle, Teaching Artist Eric Booth, and myself. In a multi-year residency at The 92nd Street Y, we performed interactive concerts for adults in community settings and clubs and adjudicated the Music Unlocked competition for emerging chamber ensembles with a passion for community engagement and outreach.  Winners were mentored for a full year; the Toomai Quintet, Aeros Winds, and LK Quartet were among the winners.