Members | About | Recordings | Videos | Venues | Press | Photos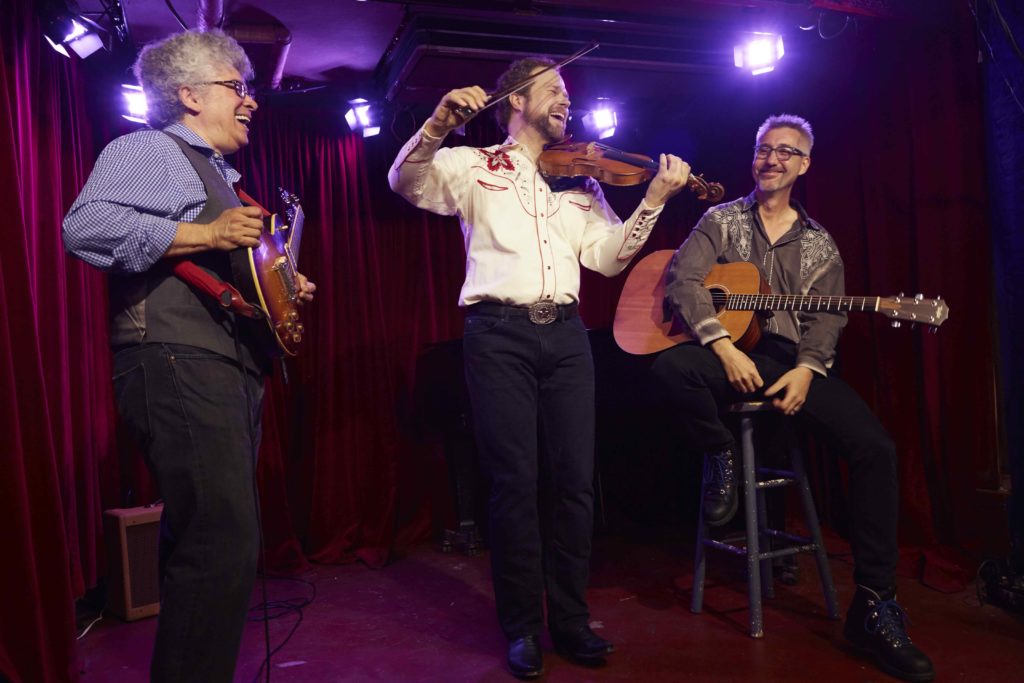 The Doc Wallace Trio has been thrilling listeners with its unique blend of jazzy Texas-style fiddling and swing since their first performance in 1999. The trio's presenters include Carnegie Hall, Lincoln Center, Midori & Friends, Young Audiences, the New York Philharmonic, HERE Arts Center, and the Levitt Pavilion. Never content to let music remain in the clubs or the concert halls, the Doc Wallace Trio is committed to engagement with underserved communities, and actively brings its artistry to schools, hospitals, psychiatric facilities, homeless shelters, houses of worship, and correctional facilities.
Doc Wallace, fiddle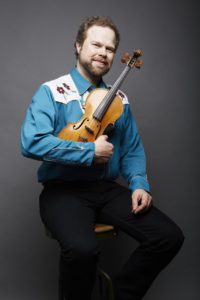 As a fiddler, David "Doc" Wallace (violin) has been broadcast on NPR, ABC and CBS television, WQXR radio's McGraw-Hill Young Artist's Showcase, and the soundtrack for the PBS television mini-series Frontier House. He has fiddled throughout the United States and has won prizes in major fiddle contests, including the World Championship Fiddlers Festival and the Texas State Championship Fiddlers' Frolics.
Equally acclaimed as a classical musician, David has appeared a soloist with the New York Philharmonic, the Hudson Valley Philharmonic, the New Juilliard Ensemble, the New York Viola Society, and the Chamber Music Society of Lincoln Center.
David received his Doctor of Musical Arts from the Juilliard School, where his dissertation on Texas-style fiddling received the Richard French Prize. He currently chairs the String Department at Berklee College of Music in Boston.
Dana Scofidio, electric guitar

has spent decades performing with groups ranging from club-date bands specializing in corporate events and private parties to show bands touring the United States and Canada to all-original ensembles stylistically ranging from folk to rock to funk to jazz and jazz fusion. Dana's recorded work includes CDs, videos, and studio recordings for a Nickelodeon television series.
He is an experienced performer, composer, and producer as well as a founding member of the jazz organ trio In the Dream, whose debut album, In the Dream, was released in 2010. Dana coproduced the 2015 album Hypochondriac with platinum-selling R & B recording artist Jeffrey Burrell and cowrote several of its original tracks.
A professional guitar and bass guitar teacher since 1976, Dana is presently the head of the guitar department at the Music School of Westchester. He attended Berklee College of Music in Boston and resides in South Salem, New York.
Daniel Levy, guitar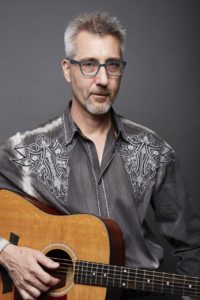 (acoustic guitar) grew up in the Midwest, where he was steeped in a musical brew that included folk songs, Top 40 pop hits, Motown, Ukrainian liturgical music, hymns, classical chamber music, Broadway shows, classic country music, and big band jazz.
He began gigging professionally as a bass player and lead singer when he was a teenager, then went on to a career as a singer-songwriter, record producer, and theater composer. Moving to New York City in the late 1980s, Daniel established himself as an award-winning composer and has written more than forty scores for plays, musicals, opera, and film.
His opera The Singing won the Richard Rodgers Development Award in 1999. Full-length musical theater works include Laughing Pictures—A Hollywood Odyssey, Cinderella, The Jungle Book, and an operatic version of Ray Bradbury's Martian Chronicles. A leader in urban teaching artistry and arts program design, Daniel enjoys partnerships with Lincoln Center Education, 92Y, Carnegie Hall, NJPAC, Little Orchestra Society, and the Sing Sing and Rikers Island correctional facilities.
About Our Music
Texas-style contest fiddling is a fusion between traditional fiddling and early jazz. The style emerged during the 1920s and 1930s, when old-time fiddlers took it upon themselves to "improve" the tunes they heard at dance halls, on the radio, and on 78-rpm records. Frequently, towns would hold contests where fiddlers would come from miles away to flaunt their talents, compete for prizes, and jam until sunrise. Once the festivities were over, fiddlers would return home to practice in their woodsheds, kitchens, and living rooms until the next contest came around.  Over time, the repertoire grew to include the genres and styles of many diverse cultures and nations.  The Doc Wallace Trio takes this rollicking music out of the tin-roofed pavilions and rodeo grandstands of the fiddle contest and gives it new life with their imaginative improvisations and jazzy New York edge.
Sample set lists: Our standard repertoire, and our special holiday Seasonal Swing concerts.
The Doc Wallace Trio on Record
Live at the Cornelia Street Café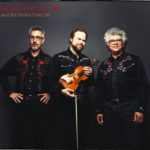 Live at the Cornelia Street Café captures one of the Doc Wallace Trio's best sets at New York City's legendary Cornelia Street Café in the heart of Greenwich Village.  Released in December 2018, just before the Café's final days in January, 2019, the album remarkably captures the exact feeling and sound of standing and performing on this iconic stage.  We are honored and humbled to be able to preserve a portion of this great New York institution so that you can experience it for years to come.  The record is available on CD Baby, and can also be streamed on YouTube and Spotify.
Live at the Living Room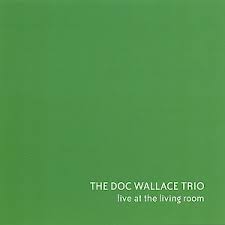 In autumn 2001, The Doc Wallace Trio released our first record, Live at the Living Room. Affectionately known as "The Green Album," this album contains a live set of twelve tunes recorded at Brooklyn's The Living Room Café as well as a party at Daniel Levy's home. Although the record sold out of its 1,000+ physical copies years ago, you can still download your copy at CD Baby. You may also stream the full record on YouTube and Spotify.
The Doc Wallace Trio Live Video
Please enjoy some samples of our live performances in concert and on television!
Select Concert & Performance Venues:
Avery Fisher Hall Grand Promenade
Cornelia Street Cabaret NYC
The Baggot Inn NYC
Black Cow Coffeehouse
The Brooklyn Museum
The Church of the Holy Trinity
Clark Studio Theater (Lincoln Center)
Collegiate Boys' School
Columbia University Sundial
Columbia University
the Foundry
HERE Arts Center
Horizon Secure Juvenile Detention Facility
Hudson View Gardens NYC
Jennie A. Clarke Residence (Shelter)
the Juilliard School
La MaMa
the Lamb's Theater
Levitt Pavilion (Westport, CT)
Lincoln Center-A Winter's Eve
the Living Room Café (Brooklyn)
The Museum of Fine Arts, Houston
The American Museum of Natural History
Queens Public Library (Douglaston)
the River Café (Brooklyn)
Rivervue Condominiums (Tuckahoe)
Roosevelt Island's Parks Concerts
the Sony Plaza Public Arcade NYC
Spectrum NYC
St. Luke's Episcopal Church
St. Stephen's Church
Tavern on the Green
Troutbeck Inn, Amenia, NY
First Universalist Church, Southhold
Westport Public Library
Yonkers Riverfest
Presenters / Chamber Series:
The Arts in Southold Town
Carnegie Hall Musical Connections Series
Claremont Strings
Conservation International
The Lamb's Theater
The Levitt Pavilion
The Lincoln Center Institute for the Arts in Education
Midori & Friends
Music in the Garden
The New York Philharmonic
20th Century Music & On
Queens Public Library
Queens Public Television
Red Bull Theater
Yonkers Riverfest
Young Audiences of Houston & Young Audiences of New York
What the Press, Musicians and Experts are Saying:
"Wallace fiddled up a storm - to much applause,"
-Joan Bunke, Des Moines Register
"Their waltzes could make a glass eye cry!"
-Bobby Christman, World Champion Texan guitarist
"Quite simply, this was one of the best performances I've heard at Juilliard."
-Richard Hervig, composer; graduate studies faculty, the Juilliard School
"Doc, you are one mean fiddler!"
-Smokey Butler, 5-time Favorite Fiddler of the Day, World Championship Fiddlers Festival, Crockett, Texas
"Dana's amazing! He stretches the tunes as far as they can go, but he always comes back to the melody. Daniel's rhythm and walking bass lines are so good... I wish I could pick out a melody like he can."
-Charlie Wallace, Texas-style guitarist
"Your CD is wonderful! When I heard the Debussy quote in 'Lady Be Good,' I realized, 'This is just extraordinary.'"
-Alan Austin; Director, Texas Music Festival
"Great sound and terrific music! I especially liked 'I'll Fly Away' and 'Ashokan Farewell,' but the whole thing is a great pleasure."
-Carl MacGowan; New York Newsday
"David Wallace is the best musician I have ever known. His trio is incredible."
-Cindy DuPree, Emmy-winning radio and television producer; member of the Recording Academy Grammy-nominating committee
"David Wallace can seriously jam."
-Mark O'Connor, 3-time Grammy winning fiddler
"Daniel Levy's rhythms are rock-solid and as good as any drummer you'll play with, and his melodies are righteous. Dana's improvising is so spontaneous- he's like a stand-up comedian with a guitar!"
-Gordon Peterson, New York City jazz guitarist
"David, your fiddling thesis is great. I've been carrying it around with me."
-John Hartford, folk musician and multi-platinum songwriter, fiddler for the soundtrack of the film O, Brother Where art Thou?
"David's transcriptions are beautiful. Incredible research."
-Matt Glaser, bluegrass fiddler of Fiddle Fever, published transcriber of Stephane Grappelli, contributing editor of Strings magazine
"Stunning!"
-Michael Weise, Texas-style guitarist and fiddler.
Doc Wallace Trio Publicity Photographs:
If you require higher resolution photos of these shots, please contact me.
Headshots of Members:
Shots of the Band: