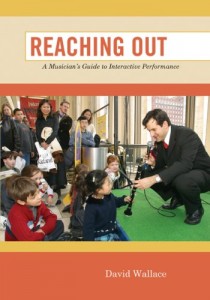 My ground-breaking book Reaching Out: A Musician's Guide to Interactive Performance quickly became the "industry standard" for audience engagement.  In 2018, Berklee Press republished the book as the revised, expanded, improved (and cheaper!) Engaging the Concert Audience: A Musician's Guide to Interactive Performance.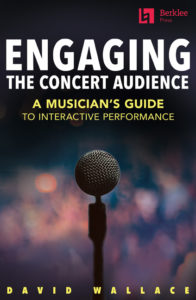 Engaging the Concert Audience preserves the strategies, techniques, and lessons from Reaching Out, but expands and updates the practice.  Additional new chapters cover important topics such as:
Successful interaction in many context, including: schools, psychiatric facilities, hospitals, correctional facilities, houses of worship, bars, coffee houses, and comedy clubs.
Busking tactics from professional street performers (and the reasons why a famous musician famously failed as a busker.)
Interactive concerts and cultural diplomacy: how to engage audiences when you tour the globe.
Benefit concerts and interactive performance for social justice causes.
Tried and true stage presence exercises from the theater world.
Eight (8!) full concert transcripts, including concerts I scripted for the Los Angeles Philharmonic, the Teaching Artist Ensemble of the New York Philharmonic, and my Texas-Style string band, The Doc Wallace Trio
A broader stylistic range of musical examples and artists from many genres, including P Funk, David Lee Roth of Van Halen, Marian Anderson, Johnny Cash, Joan Baez, Pete Seeger, Pastor Shirley Caesar, Wynton Marsalis, composer Athena Adamopoulos, Sufi rock star Salman Ahmad of Junoon, Chelsey Green and The Green Project, Eli Yamin and Rachel Barton Pine, Violinist, and many more.
If you want to connect any audience whatsoever to the music you love, this book is for you!