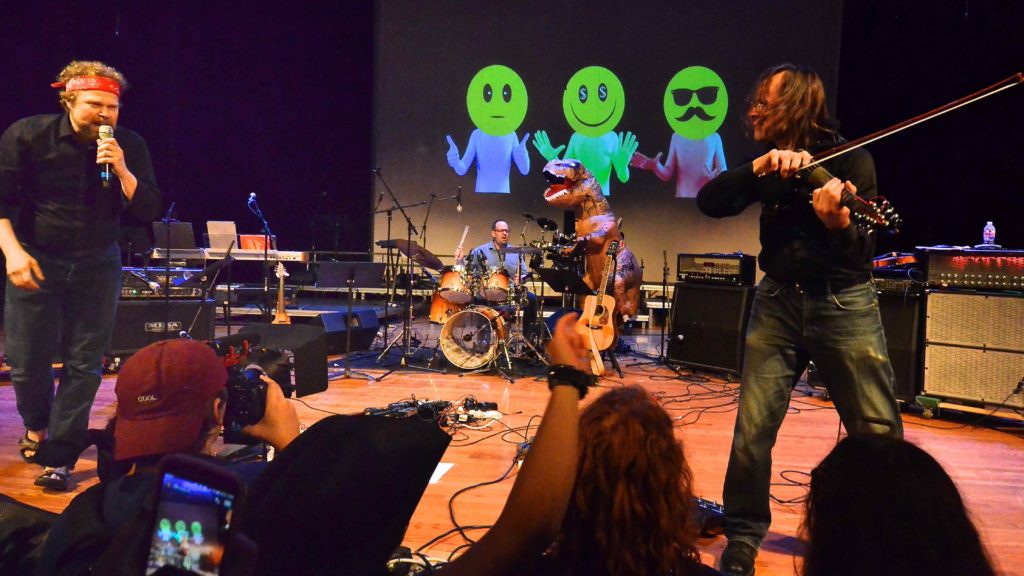 The Chuck and David Show begins wherever minds are open. Brace yourselves for the full-on creative onslaught of two conservatory-trained metal dudes whose chosen "weapons" are six and seven-stringed electric violins. Expect poetry, animation, mind-bending, award-winning original compositions, and electronic reinterpretations of masters like Eugene Ysaÿe and J.S. Bach. -But wait, there's more!
Mosh to classics by Nirvana, Van Halen, Blind Melon, the Dead Milkmen, and Iron Maiden. Revel in fully orchestrated masterworks of bands like Pink Floyd, Mötley Crüe, and Metallica. Oh, yes, there is Metallica, sweet EARLY Metallica, the likes of which you have never heard, my friends! Because we believe in total catharsis, our programs hit all five fundamental human emotions: love, joy, anger, fear, and sorrow.
SO, on your feet, kids! It's time to go to the Chuck and David Show!!
The Musicians Behind the Chuck and David Show:
About Chuck Bontrager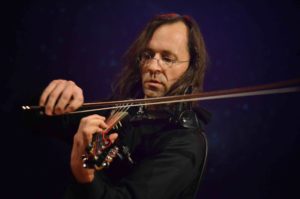 Chuck Bontrager defines the versatile 21st-century musician: classically trained, yet experienced in multiple performance styles. Additionally, he is fluent in several variations of his instrument (viola, violin, baritone viola (chin-cello), mandolin and mandola, and especially his 7-string Viper electric violin). Capable as a performer, arranger, and conductor, Chuck is wholly dedicated to the advancement of his instrument and the education of new generations.
As a performer, Chuck currently serves as Concertmaster of the Chicago company of Hamilton: An American Musical. He has performed in over twenty other productions on the Broadway In Chicago series, as well as dozens of other operatic and theatrical productions. Chuck also regularly appears as String Captain with local tribute giants Tributosaurus, his Tool tribute band, Vicarious, and heavy-prog newcomers Nomadic. In addition, he has performed with every major orchestra in the Chicago area, including the Chicago Symphony and the Chicago Lyric Opera.
Chuck teaches at Columbia College Chicago and the Merit School of Music. He is an experienced private lesson and group class teacher, chamber coach, Rock Band instructor, and clinician. Because his music fascinates and motivates, Chuck's Bowed Metal demonstrations are a frequent addition to local school curricula, most recently at Carl Sandburg High School in Orland Park, Illinois, and with the Audience Matters outreach program sponsored by the Chicago Sinfonietta.
Since 2012, Chuck  has served on the Artist Mentor faculty of Mark Wood Rock Orchestra Camp (MWROC). where he joins other world-class performers and teachers in helping future generations find their creative voices.
About Dr. David Wallace
Dr. David Wallace  improvises solos like "Jimmy Page fronting Led Zeppelin," according to The New York Times. David is a fiercely eclectic musician, award-winning composer, master teaching artist, and Chair of Berklee College of Music's String Department. Prior to Berklee, David enjoyed a fourteen-year tenure as a Juilliard professor and seventeen years as a New York Philharmonic Teaching Artist.
David's concert appearances include not only solo and chamber performances with New York Philharmonic and the Chamber Music Society of Lincoln Center, but also pop, rock, gospel, and opera appearances with artists like Stevie Wonder, Father John Misty, Selah, and Placido Domingo.
Additionally, David leads his Texas-style string band, The Doc Wallace Trio, and is a founding member of the flute-viola-harp trio, Hat Trick. Hat Trick's debut album, Garden of Joys and Sorrows received a 2018 Grammy nod as one of David Frost's nine winning projects (Producer of the Year, Classical).
As a composer and arranger, David's commissions include Carnegie Hall, the New York Philharmonic, the Juilliard School, violinist Rachel Barton Pine, the Marian Anderson String Quartet, and the Robert F. Ryan & Qin C. Ryan Foundation. His book, Engaging the Concert Audience: A Musician's Guide to Interactive Performance is widely regarded as a "must read."
David earned his D.M.A in viola performance at the Juilliard School where he served as a Morse Teaching Artist Fellow and Teaching Assistant to legendary violist and pedagogue Karen Tuttle.
The Chuck and David Show on Video:
Of course, by now, you've probably had enough hype and you'd like some substance. Well, how about our viral video of an epic instrumental, which Metallica has only performed live once?
Or perhaps, this classic medley from Pink Floyd's immortal "Dark Side of the Moon?"
Finally, here's a playlist that will let you browse more of our repertoire, and catch a full-length hour-long set:
So You Want to Book the Chuck and David Show?
Because Chuck and David bring a multitude of skills, various bookings are possible, including:
Concerts as an unaccompanied duo
Concerts augmented with rock band (electric bass, drums, keyboards, singer)
Performances with orchestra
Festival appearances
Short-term residencies at secondary schools and colleges
Clinics on a variety of topics including, but not limited to: master classes, orchestral and chamber music coaching, rock band coaching, the art of amplification and electronic effects, mock auditions, improvisation, composition, arranging, interactive performance, and the art of entrepreneurship.
That's quite an array of options. Once you've imagined the possibilities and dreamed up a plan, contact us about making it a reality.