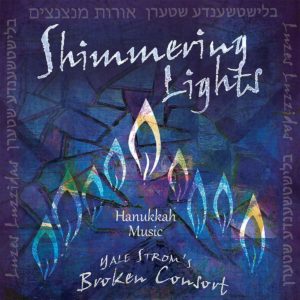 Yale Strom's Broken Consort showcases eight world-class musicians from diverse traditions. Together, our talents create a swirling fusion of klezmer, jazz, and world music.
At the core of the group are four members of Yale Strom's klezmer band, Hot Pstromi. Elizabeth Schwartz's sassy, expressive vocals spin tales that tug the heart while fiddler Yale Strom improvises flights of fancy.  Bassist Jeff Pekarek and guitarist Frank Benedetti lay down tight rhythmic grooves, in addition to soloing.
Rounding out Broken Consort are Alex Greenbaum's classical cello, Sara Caswell's jazz violin, Amos Hoffman's jazzy electric guitar and middle-eastern oud, and my viola, which ranges from Texas swing to free jazz and classical.
Yale Strom's Broken Consort's Debut Album, Shimmering Lights
On October 5th, 2018, Arc Records released Broken Consort's debut album, Shimmering Lights. Enjoy our first single below!
You also read a Jewish Telegraph article about our record or get my inside perspective here. Although our record has only been recently released in the U.S., positive reviews are already in from Russia and the Netherlands. If you like what you hear, please consider supporting our efforts by ordering the album!
Broken Consort on the Road
On December 4th, Yale Strom's Broken Consort will perform a CD release concert at San Diego State University's Smith Recital Hall. Next March, we will perform a concert at the International Klezmer Music Festival in Fürth, Germany.
Booking
To book Yale Strom's Broken Consort, contact the man himself!