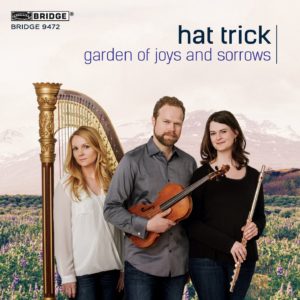 Hat Trick is my virtuosic flute-viola-harp trio with flutist April Clayton and harpist, Kristi Shade. We are equally at home as chamber musicians, soloists, and agents of audience engagement. Together, we aim to broaden the flute, viola, harp repertoire, as well as showcase its individual and collective strengths.
Although classical masterworks by Debussy, Takemitsu, and Gubaidulina form the core of our repertoire, we also commission works by living composers. Submerged, our commission from Uruguayan-American composer Miguel del Aguila, is already becoming a harp trio standard.
In 2018, Hat Trick received a Grammy nod for our debut album, Garden of Joys and Sorrows. (Our record was one of our producer David Frost's nine projects that earned him Producer of the Year, Classical).
For full information, bios, photographs, and reviews, please visit www.triohattrick.com. Of course, I'd love for you to hear us now, so please browse the YouTube playlist below!