I am SO EXCITED that the New York Philharmonic and soprano Lucy Shelton will perform the world premiere of my orchestral song cycle William Blake Rhapsody! Part of the Philharmonic's 2014 Biennial Festival, my concert is on Saturday, May 31st at 11:00AM at Merkin Hall.
Curated by Jon Deak, this free program features music from the Philharmonic's  Very Young Composers project.  Emerging teen composers will have their own new works performed alongside premieres of their mentors (me, Daniel Felsenfeld and Richard Carrick).
I genuinely believe that William Blake Rhapsody has something for you. . . so, let's take a closer look!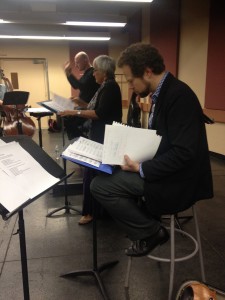 William Blake Rhapsody
William Blake Rhapsody embodies our struggle to find enduring love, joy, and faith amidst a broken world fraught with suffering. Blake's poetry and imagery drive the work.
In each of the three songs, a soprano personifies, amplifies, and deconstructs Blake's poetry with her melodies. (Yes, you heard that right: I'm a composer who actually believes that singers should have melodies.)
As the soprano projects our love, joy, grief, and woe, the orchestra conjures Blake's poetic images with sound. Sometimes, we hear literal depictions of birdsong or infants. Other times, recurring themes and motifs symbolize Blake's theology and worldview. Occasionally, the orchestra represents malevolent or benevolent forces acting upon the soprano's personal Heaven or Hell.
Are you curious to know which poems I chose, and to hear how the music sounds? You can read the full program note and libretto here, but I also play and sing a bit of it in the "making of" video below:
The Making of a Philharmonic Biennial Premiere
Because I wanted to share some behind-the-scenes secrets, I filmed a "Making of the William Blake Rhapsody" video for my YouTube channel. Although I'm embarrassed to be singing instead of Lucy, you'll still get a sense of the piece: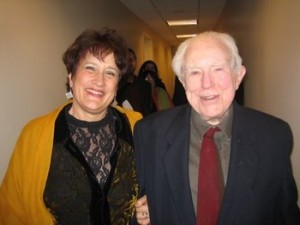 Premiere Musicians
As I mentioned, William Blake Rhapsody features phenomenal soprano Lucy Shelton. Through the years, Lucy has premiered and recorded works of Elliott Carter, David Del Tredici, and countless other masters. Longtime New York Philharmonic conductor Michael Adelson conducts a chamber orchestra consisting of New York Philharmonic members. To a person, everyone involved in the project has been a dream.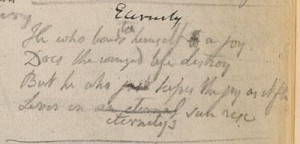 NY Phil Biennial in the News
For more information on the New York Philharmonic Biennial, please enjoy this NPR All Things Considered broadcast. Since this festival only comes every two years, I really hope you'll make it!