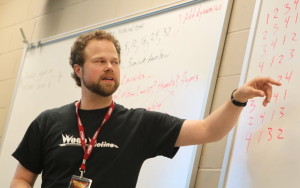 As a longtime violin and viola teacher, I am thrilled to join [my] Talent Forge! By joining this curated online learning community, my accumulated teachings are more available and affordable than ever.
The digital age has profoundly changed the way we can learn music. We now have twenty-four hour access to digital libraries of sheet music, recordings, and tutorials. As a result, we can study in the comfort of our homes without worrying about schedules or geographical access to a great teacher. What's more, with [my] Talent Forge, you can gain access to an entire team of diverse expert string teachers.
I am particularly happy to align myself with [my] Talent Forge because this site exclusively features musicians with established reputations as outstanding teachers and performers. Without the quality control of sites like [my] Talent Forge, your job of separating the wheat from the chaff becomes prohibitive.
For example, type in "vibrato tutorial" into Google. You get over 386,000 results. Some are laudable, but far too many give horrible or even crippling advice. When I see bad lessons uploaded by amateurs who have no business teaching you anything, it breaks my heart!
In contrast, [my] Talent Forge subscribers learn vibrato from my nine-lesson series of vibrato secrets. You get the best exercises, information, and shortcuts I have gleaned and taught over the past three decades. Step by step, the videos sequentially teach you potent tips that I learned from my Juilliard professors and other legendary string pedagogues.
Given a choice, would you rather get the best vibrato lessons straight from a Juilliard professor, or do you want to try your luck with YouTube's 103,000+ vibrato tutorials?
My Talent Forge has Zen Bowing Exercises
Some of my videos walk you directly through simple, powerful exercises. When practiced on a regular basis, these routines vastly improve your playing. For example, here's a lesson that teaches a phenomenal tone production and relaxation exercise that I learned directly from Josef Gingold, Joshua Bell's teacher:
My Talent Forge Brings Ergonomic Comfort
Other videos give you a few simple tips that instantly improve technique and comfort:
My Talent Forge Perfects Peak Performance
Recently, I've begun a whole series of videos to coach you on stage performance, performance anxiety, and peak performance.  Ever wonder how to conquer the problem of cold hands?  Here's how!:
To date, I've created dozens of videos, and about forty pages of sheet music. My lesson topics include vibrato, tone production, comfort with the instrument and bow, stage presence, stage fright, left-hand short cuts, and revolutionary scale exercises. And [my] Talent Forge has literally hundreds of lessons by our other expert teachers.
Moreover, we continually develop new content according to the needs and requests of the [my] Talent Forge community. I love to respond to questions and custom requests from subscribers. So if you have topics you'd like to see, please leave a comment. I'll gladly respond.
Ready expand your repertoire and skills? If you are, please join us! Oh, and when you do, use the coupon code DavidWallace for added savings! (Seriously, who doesn't like a discount code?!).  Keep calm, and fiddle on!
-Doc Wallace, January 18, 2014