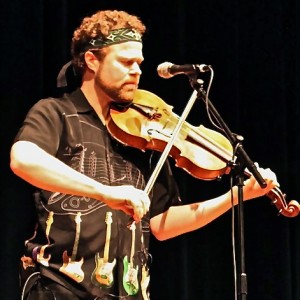 DocWallaceMusic has a website? I can hardly believe it. . . After years of dreaming, procrastinating, and pouring all my energy into living the life of a musician, composer, and teaching artist based in New York City, I'm finally launching a website!
What's that, Vi?  (Vi Wickam's my web guru / personal-mentor-in-all-things-internet). This post is actually the beginning of the DocWallaceMusic blog?
Oh, man, I should say something pithy, momentous, or engaging. . . but I've only got a few hours to pack all my clothes and electronics gear for Mark Wood Rock Orchestra Camp and Music Festival!! Come to think of it, MWROC is extraordinarily momentous; I'll let next week's events do the talking!
I'll be performing on every faculty concert next week at the Bell Center in Olathe, Kansas. My own set is Wednesday, July 17th. I'll be performing a movement from a string quartet I'm writing for the Marian Anderson String Quartet, some Lead Belly, my ever-popular Nahum: An Apocalyptic Prophesy for Electric Viola, as well as some surprises. Other highlights include performing a Mahavishnu Orchestra chart with Joe Deninzon, Tracy Silverman, Lucas Shogren, and Matt Vanacoro on Monday; shredding heavy metal medleys and a movement of Shostakovich's String Quartet No. 3 in F Major, Op. 73 with Rachel Barton Pine on Tuesday; and joining the MWROC Beatles and Zeppelin orchestras for the final concert on Friday night.
[2017 Update: You can actually view the full MWROC 2013 set on my YouTube Channel.  Here it is, in all its quirky glory:]

Spread the word! I sincerely hope some of you can make it out to some of the concerts. Here's a sample from last year to whet your appetite. This is a 100% improvised psychedelic jam based on Janis Joplin and Big Brother & the Holding Company's cover of Moondog's All is Loneliness: 

Can you see why I'm so excited?! But that's just part of the adrenaline and endorphins:
During the day, I will be teaching and coaching inspired musicians of all levels and ages how to improvise, rock out, create their own arrangements, and thrive in an atmosphere where everyone is unconditionally loved, celebrated, and accepted.
So, I think that's plenty of material for this first entry. DocWallaceMusic.com is still a work-in-progress, but it gets a little better and more complete each day. I'm editing and uploading new content constantly, so bookmark the page, and check in frequently. My goal is to have all sections fully developed by the end of July. Meanwhile, please browse!
Thank you so much for sharing the journey with me!
Rock on!
Doc Wallace
13 July, 2013
Subscribe to DocWallaceMusic's YouTube:
PS While you're at it, check out the Doc Wallace Music YouTube channel.  I've been developing it for over a year now, and it's another great place to keep up with me.  If you like what you see, please subscribe.  That way, you don't miss any updates!  Contrary to popular belief, you don't need a Gmail account; you just need to sign in.  Google will kindly walk you through the process.