With Ear Shot, The New York Philharmonic issued a bold new call for scores. Ultimately, six finalists emerged from dozens of submissions. Let's listen!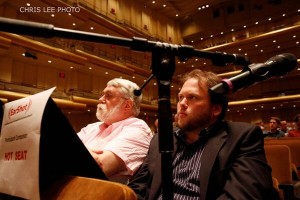 Hands down, leading pre-concert talks is one of the best perks of my job as Senior Teaching Artist at the New York Philharmonic. Why?
For one thing, I actually get paid to study great music. Then, I excitedly speak about it and listen one to of the world's greatest orchestras dazzlingly perform it. What's more, the concerts usually feature marvelous soloists like Midori and Alisa Weilerstein (both performing this weekend)!
Preparing the Biennial Concert Talks
This year, my opportunity comes June 5-7, during the NY PHIL BIENNIAL. In short, the biennial is an eleven-day, twenty-one-concert, new music extravaganza. At last Saturday's concert, soprano Lucy Shelton and Philharmonic musicians premiered my own orchestral song cycle, William Blake Rhapsody.
Currently, my music studio is totally cluttered. I'm surrounded not only with pages from complex scores by Christopher Rouse, Elliott Carter, Matthias Pintscher, and Peter Eötvös, but also with SIX amazing new scores that were read at this morning's Ear Shot National Orchestral Composition Discovery Network readings in Avery Fisher Hall.
After this morning's reading, Philharmonic musicians, Music Director Alan Gilbert, Composer-in-Residence Christopher Rouse, and other esteemed composers will give feedback to all six finalists. Later, a top-secret committee selects three of the works to include on this weekend's concerts.
Ear Shot #1: Dark Sand, Sifting Light
Julia Adolph's Dark Sand, Sifting Light automatically gets a strong nod from me because she features our Principal Violist Cynthia Phelps in a gorgeous solo. The rest of Julia's score is lyrical, colorful, well-balanced, and clear, with other engaging instrumental spotlights.

Ear Shot #2: Into Focus
William Dougherty's Into Focus gets a prize for most direct and instrumentally idiomatic application of the overtone series. As a meditation on how our consciousness tends to drift between different degrees of focus and clarity, it relies heavily on drones. The orchestra resonates naturally in ways that truly do, in fact, impact our consciousness and sense of time:
Ear Shot #3: Bismuth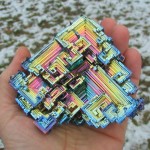 Max Grafe's Bismuth: Variations for Orchestra aims to embody the structure of a pure Bismuth crystal.  (The chemists in my family surely would want me to lobby for this one).  Indeed, Grafe's structure is clear, bold, angular and colorful. Moreover, the score contains some of the loveliest oboe and bassoon writing of the six:

Ear Shot #4: Innumerable Stars, Scattered in Clusters
Jesse Jones's Innumerable Stars, Scattered in Clusters sounds exactly like one would expect from his title. Brimming with harmonics and bright mallet percussion, his orchestration undulates, swirls, and sparkles.
Ear Shot #5: Scenes from the Bosco Sacro
In contrast, Wang Lu's Scenes from the Bosco Sacro musically depicts some of the fantastic monsters from Rome's sacred grove of the same name. Hers was by far the most grotesque and dissonant work of the day, but with a good dose of playfulness, quirkiness, and humor. Judging from photos of her inspiration, I think she succeeded marvelously.
Ear Shot #6: Strobe
Andrew McManus' Strobe rounded out the set.  Strobe presents a kaleidoscopic whirlwind of musical images, which McManus describes as "flashing lights, stop motion, faded, photographs, electronic dance music."

You can learn much more about each piece and each composer at the American Composers Orchestra's Sound Advice blog.  I must say, I'm glad that I wasn't on that secret committee because I enjoyed all six scores immensely. In my book, each piece is a winner.
UPDATE: Congratulations to Julia Adolphe, Andrew McManus, and  Max Grafe. Respectively, the Philharmonic will perform their works on June 5th, 6th, and 7th. Let's catch 'em all!
Doc Wallace, 3 June 2014