I just invented a new hash-tag: #HarbingerOfAwesomeness (plural: #HarbingersOfAwesomeness). Simply put, Harbingers of Awesomeness are unforeseen portents of good things to come.
Twitter doesn't recognize this hash-tag yet, though it does know #HarbingerOfTheMundane.  Since that sounds rather awesomeless, let's tweet our #HarbingersOfAwesomeness and start a better trend.
But first, here's some inspiration to get you started. . .
First-class #HarbingersOfAwesomeness
Before I went to bed last night, Delta Airlines gave me a surprise first-class upgrade. Thus emerged the historic first #HarbingersOfAwesomeness tweet:

As Dave Carroll's song "United Breaks Guitars" clearly relates, traveling with instruments can be a major ordeal:

If you still need convincing, here's another woeful saga from Yours Truly: MY BAGS WENT TO GHANA AGAIN?!!!.

Naturally, flying first facilitates traveling with two instruments and a backpack full of electronics. Upgrades are doubtless #HarbingersOfAwesomeness, but so are the people around you. . .
People can be Harbingers of Awesomeness
Before I went to the airport, I encountered a human Harbinger of Awesomeness. While making a mad, last-minute cash-dash for the bank, I was greeted by a soft, friendly, "David Wallace!"
I spun around to face a smiling Bridget Kibbey, who was on her way home from an early morning jog.  Bridget was the original harpist of my trio that recently re-emerged as Hat Trick, with flutist April Clayton and harpist Kristi Shade.
In 2004, Bridget also toured with the Teaching Artist Ensemble of the New York Philharmonic on our inaugural tour. Whenever anyone encounters Bridget, something good follows, usually of a musical or spiritual nature. In other words, Bridget Kibbey is a certified Harbinger of Awesomeness:
Sure enough, on this morning, there was no traffic to LaGuardia Airport. As a first-class passenger, I circumnavigated the "infinitely long, plebeian, non-elite traveler" check-in line.
Even a TSA Inspection Can Equate to Awesomeness
Then came the next MAJOR Harbinger of Awesomeness. During TSA screening, my electric viola tested positive for explosives. Believe me, I want to give some EXPLOSIVE performances at Mark Wood Rock Orchestra Camp this week!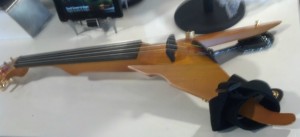 I was tempted to photograph the large "EXPLOSIVES DETECTED" message on the computer screen, since this had never happened before. However, I didn't want to arouse additional attention. -That's because in a #HarbingerOfTheMundane, the TSA was predictably suspicious of one of my favorite electronics effects pedals: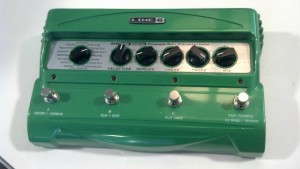 TSA agent: What's this?
Doc Wallace (with pride & enthusiasm): It's the Line 6 DL 4 Delay Modeler; it makes electric violas sound mad awesome!!
I daresay the agent cracked a smile before she nudged her male colleague to give me a full-body pat-down.
"Sir, I'm going to gently pat your buttocks with the back of my hand."
Under very special circumstances, I suppose that someone might consider such an intimate utterance to be a Harbinger of Awesomeness. In the context of a TSA inspection, though, we are reminded:
Harbingers of Awesomeness are not about business as usual. . . on the contrary, they are portents of exciting or extraordinary realities on the horizon. They are neither guarantees nor assurances. Rather, Harbingers of Awesomeness are hunches, sparking our minds and sensitizing our intuition. By waking us up, they open us up to transcendent realities and greater appreciation of the mundane. We just know that we're onto something good.
Wishing You Awesomeness
To close, I'll leave you with a short video from Robert Brooker. Robert's a train engineer who works in the Toronto subways, and who also subscribes to my YouTube channel. Clearly, he gets the concept:
Hey, did I mention that my plane arrived in Kansas City fifty minutes early?!!
For more #HarbingersOfAwesomeness, please visit and follow my Twitter page.
Wishing you extraordinary realities!
-Doc Wallace 14 July 2013