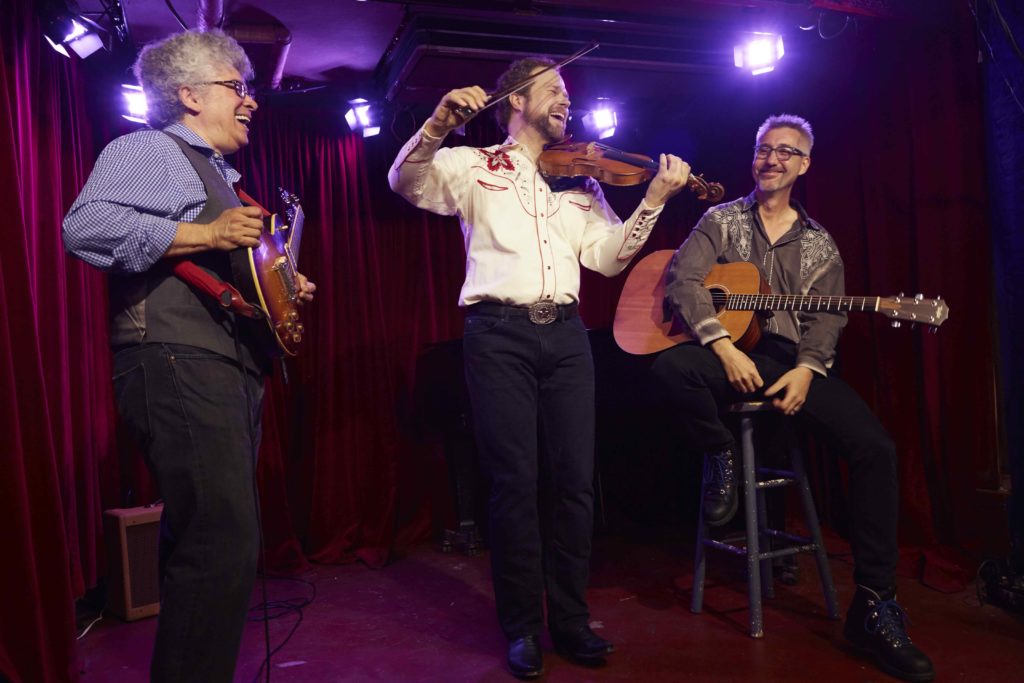 Live at the Cornelia Street Cafe, the Doc Wallace Trio's long-awaited second album has arrived! This CD captures one of our trio's best sets at New York City's legendary Cornelia Street Cafe in the heart of Greenwich Village.
Released in December 2018, just before the Cafe's final days in January, 2019, this album captures the exact feeling and sound of standing and performing on this iconic stage. Truly, we are honored and humbled to preserve the sound and vibe of this legendary New York institution. For years to come, you can experience it for yourselves by purchasing or downloading the record on CD Baby, and streaming it on YouTube and Spotify. (For the best, authentic Cornelia Street Cafe experience, get the CD!)
Praise for Live at the Cornelia Street Cafe
I'm proud to share a few endorsements from just a few of my most-admired heroes:
"Texas fiddling takes a wonderful step outside the box on Live at the Cornelia Street Cafe. Doc Wallace adds fresh angles on some old favorites, and there's magic and excitement between Doc, Daniel, and Dana that make this CD just fun to listen to!"
—Bruce Molsky, Grammy-nominated fiddler
"All hail Doc Wallace, one of my favorite people on earth! A true musical polymath—a fabulous violist, a great Texas fiddler, a writer, historian, teacher, and a repository of knowledge of all things musical. Check out this great recording he did with the Doc Wallace Trio—you will get to spend some virtual time with him. Just don't be jealous of those of us who are privileged to spend real time with him every day! Welcome to the wonderful kaleidoscopic musical world of Doc Wallace!"
—Matt Glaser, artistic director, American Roots Program, Berklee College of Music
"Doc's fiddle playing has a craggy majesty that I associate with Texans. In this live collection, there's a power and a sense of much more going on farther up the mountain, while simultaneously you are whirled into the joy of what's happening right now. A great musical moment right there in the bar, captured for us any time we might need it."
—Darol Anger, cofounder, David Grisman Quintet, Turtle Island Quartet
The Music
Live at the Cornelia Street Cafe is truly a live, no-holds-barred recording. We captured each tune in a single take, without punch-ins or fancy edits.
In contrast to today's polished, perfectionistic American roots-music recordings, this album harks back to the energetic, raw performances that I grew up hearing at fiddle contests in Texas. Texas fiddle contests and jam sessions are not about auto-tuned studio perfection. Rather, they celebrate creative expression, rhythmic drive, and visceral intensity.
Our performances run the gamut from fairly traditional to wildly improvisational. It's not a Doc Wallace Trio gig unless we and our listeners are dazzled, surprised, amused, and moved!
Many tracks owe a strong debt to fiddlers from the third generation of Texas-style contest fiddlers, particularly Dale Morris Sr. and Jim "Texas Shorty" Chancellor. During the late 1970s and early 1980s, Morris and Chancellor were the primary rivals of my teacher, Michael Weise. Michael transcribed their performances and taught me their interpretations, in addition to his own. He also taught me renditions by Terry Morris, Dick Barrett, Benny Thomasson, Major Franklin, and other venerable Texas fiddlers.
Because I've always loved Texas-style waltzes, I have included five. Three waltzes include expressive solos by our acoustic guitarist Daniel Levy:
Electric guitarist, Dana Scofidio, gets to shine in our uptempo breakdowns and swing tunes:
And some tunes, like "Sally Goodin" receive a traditional, Texas contest-style treatment:
Gratitude
Firstly, the Doc Wallace Trio sincerely thanks Robin Hirsch. For over forty years, Robin served the Cornelia Street Cafe's "Owner, Minister of Culture, and Wine Czar." Dana, Daniel, and I all have fond, vivid memories of performances we attended or presented. Robin's legacy stands and truly can never be replaced. We also thank Seth Knight, the cafe's Assistant General Manager, who provided logistical support and help.
Additionally, we thank recording engineers Jody Elff and Avi Fox-Rosen; mixing engineer, Dana Scofidio; mastering engineer Dave Glasser of Airshow Mastering; photographer Christopher Davis; and graphic designer Louise Bichan.
Finally, we thank Berklee College of Music for a generous Chair Recording Grant to support production of this album.
Of course, none of this would be possible without YOU, our fans! Welcome to the Cornelia Street Cafe. Please sit back and enjoy the show!
Order your copy today at CD Baby!