Music camp withdrawal symptoms hit hard once you return to "the real world." Just listen to this distraught message I received from Chuck Bontrager, heavy metal violinist and concertmaster of Chicago's Hamilton orchestra, two days after the MWROC festival concluded: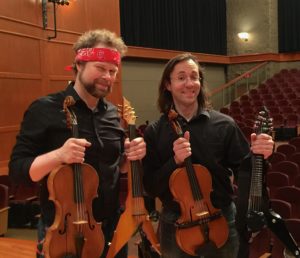 "Doc! Doc! You gotta help me, Doc! I think I might be going through some kind of withdrawals. I'm having the constant urge to put on my Doc Martens and jump around onstage with some kind of crazy instrument for a bunch of people screaming at me, playing ear-blisteringly loud music and fantastic original compositions. What do I do, Doc, what do I do?!!!"
We've all been there. Disorientation, hyperactivity, fatigue, lethargy, insomnia, loss of focus, longing, flashbacks, loss of appetite, ravenous appetite. . . Say, "Hello!" to Music Camp Withdrawal Syndrome! [MCWS]
If you've come down with a bad case of  Music Camp Withdrawal Syndrome, try one or more of these tried and true prescriptions:
Understanding Stress and Recovery
I'm a staunch follower of athletic trainer Jim Loehr's book, Toughness Training for Life. Loehr emphasizes stress management as a primary means of attaining peak performance and maintaining homeostasis (physiological and psychological balance). According to Loehr, top-tier athletes and artists manage stress through targeted recovery. In other words, we can offset our physical stress by pursuing physical recovery. Similarly, we can counter our emotional stress by investing in emotional recovery, and so on.
Music Camp Withdrawal Syndrome Demands Physical Recovery
You're probably short on sleep, so go to bed early. (Really early!) Sleep late. Take naps. In 1999, sleep scientist, Dr. William C. Dement published a game-changing book, The Promise of Sleep. In it, he repeatedly underscores a clinically proven fact: sleep debt is cumulative. You can't sleep off a week of short nights with just one full night's sleep. To offset the cumulative sleep debt of a week-long music camp, you probably need at least full week of extra sleep. Plan for it, and rest without guilt. You're rebuilding your body and mind, not being lazy.
Of course, your sleep schedule may be a bit of a mess right now, and you may not feel like going to bed. Do so anyway. If insomnia is a problem, accept it, but stay alert to moments during the day when sleepiness overpowers you. In those moments, stop everything and take a recovery nap.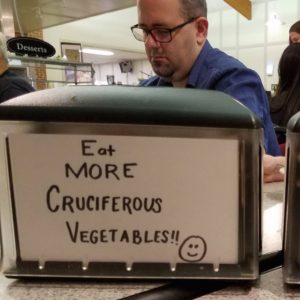 Speaking of physical recovery, how's your nutrition? At camp, you probably were snacking, eating not-so-healthful foods, consuming too much sugar, and drinking larger than usual quantities of caffeine and dehydrating beverages. Reduce or curtail your intake of junk food, stimulants, and depressants. Eat more vegetables, especially green, leafy, and cruciferous ones! Drink plenty of water.
Did you exercise while at camp? If not, this might be a good time to get back in shape. Jog, swim, dance, take long walks, lift weights – anything that boosts your circulation can also elevate your energy levels and mood.
Conversely, if you were exhaustively active at camp, you probably need a few days of complete physical relaxation and rest to reset your body chemistry to a less adrenalized state.
Music Camp Withdrawal Syndrome Requires Emotional Recovery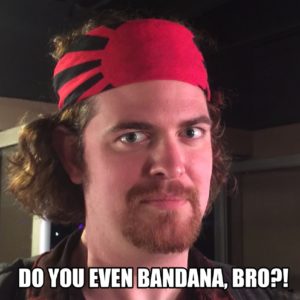 Although most people only think of stress as coming from negative or anxiety-producing sources, positive stress also knocks our body chemistry out of kilter. If you experienced intense, emotional highs at camp, a certain amount of depression or lethargy will likely follow. ("What goes up. . .")
Similarly, an abrupt separation from a community of likeminded friends can trigger an emotional crash.
How do we cope with these inevitable lows? Social withdrawal symptoms demand social cures, so stay in touch with your camp friends and colleagues. Use your phone, email, social media, or group hangouts. Put a reunion date on the calendar, or arrange an in-person visit.
Fight depression with good humor, laughter, and fond memories. Turn a colleague into a meme, or a gif:
Without a doubt, smiling and laughing together can help us to regain our equilibrium. I got a good laugh from a short, hilarious, nonsensical movie that my MWROC student Quinton Stickley made of me. The film consists of nothing but bizarre moments from my lessons edited together with absolutely zero context. I'd post it, but you'd probably conclude that I'm a lunatic and would disregard the rest of my advice. -And that would be a shame because the next suggestions can lead you to some profound discoveries. . .
Reflection as a Means of Coping, Deepening Experience, and Finding Closure
In his book, Art as Experience, educational philosopher John Dewey shares an essential truth: when we neglect to reflect, we fail to learn from our experiences. You went to music camp to learn, not to fail, so let's reflect.
Take a long solo hike, jog, or bike ride. Keep a slow, steady pace, and let its rhythm set a calm, objective tone. See where your mind goes and where the memories take you. What do you notice? What do you learn?
Set up a camera, start filming, and let a stream of thoughts about your camp experiences and relationships spill forth. What were your highlights, epiphanies, discoveries, embarrassments, 'druthers, joys, successes? What are you still working through? -You don't even need to watch or share your video. However, you might learn more if you do.
Keep a journal. Whether you write by hand or type, journaling crystallizes your thoughts, captures key ideas, processes confusing experiences, and provides a safe means of addressing lingering problems.
–Let's face it: not all music camp experiences are positive. Writing can slow down your thought process, still your emotions, allow you to view things objectively, and help you to resolve or release any less-than-positive experiences. Sometimes, full recovery from Music Camp Withdrawal Syndrome requires forgiveness. (Both asking and receiving).
Thorough Reflection Involves Others
One of my favorite ways to reflect is to write a thank you note and send it to the directors, staff, teachers, or students of a camp. Trust me, you never know how much work it takes to run a music festival or camp until you actually do it yourself. A simple thank-you message means more than you can imagine.
Of course, you can reflect through visual means, too. Arrange your photos or videos into an album, or make a scrapbook, and share. Enjoy other people's videos and photos; comment and share them.
Listen again to the concerts, and jam sessions. A simple recording can put a smile on your face and take you right back to a great moment. Every time I play Victor Furtado and Andrew Vogt's street jam from the 2017 Berklee Global String Intensive, I'm transported to the joyful intensity of our Berklee summer jams.
Remember to balance solitary reflection with social reflection. You gain deeper perspective when you share with friends and listen to them. When I returned Chuck Bontrager's call, we enjoyed almost two hours of fellowship. It was good therapy.
Plan Your Next Fix
If you're a hardcore musician, Music Camp Withdrawal Syndrome may chronically reappear throughout the year. In truth, your MCWS may never fully dissipate. The bad news: you may be hooked on music camps for life! The good news: you always have something to look forward to. . .
Do a quick search to see if there are any more camps you can attend this summer. [I'm on a plane to Interlochen Arts Camp, as I type this.  My MCWS is nil at the moment because I'm about to get another good, strong dose of music camp]. If not, it's not too early to start saving your money for next year.
Start a countdown clock. Register for next year's camps as soon as you can. Start practicing and planning your performances.
Naturally, you want to be a better musician at your next camp. Once you've had a chance to regroup and rest, move on to part two of this blog, Music Camp as Radical Catalyst. Turn your MCWS into motivation, so that you can maximize what you learned this year.
Oh, and if you wanted to see that wacky concert Chuck was talking about, here you go.  One hour and good headphones or speakers recommended:
Dr. David Wallace serves as String Chair of Berklee College of Music, and teaches online string lessons at MyTalentForge.com. (SUMMER SALE! Until Labor Day, you can use the discount code DocWallace for 20% off on your subscription!) During the summer, catch him at Berklee College of Music's  Global String Intensive, Five Week Summer Performance Program, and Mark Wood Rock Orchestra Camp.