What's the first CD you ever bought? Back in the 80's, when those shiny new laser disks appeared in elongated cardboard packages, my first purchase was Talking Heads' Little Creatures.  I enjoyed the entire album, but I particularly liked to play the final track, "Road to Nowhere," on endless repeat.
ABOVE: Watch David Wallace & Friends perform Talking Heads' "Road to Nowhere" at the 2016 MWROC festival.
Road to Nowhere in the Golden Era of MTV
In fact, MTV's heavy rotation of "Road to Nowhere" was probably what prompted me to buy Little Creatures. Lead singer David Byrne always had artistic concepts and films for Talking Heads' songs. "Road to Nowhere" remains my favorite for its symbolism and cinematography:
Byrne perpetually jogs on an invisible treadmill in the lower right hand corner. Meanwhile, other band members perpetually twist, age, and cycle through life's major events.  If you watch the video in slow motion, or frame by frame, prepare to catch oddities you may have missed while staring at the jogging Byrne:
We briefly witness Trinity, the world's first detonation of an atom bomb (0:59-1:01)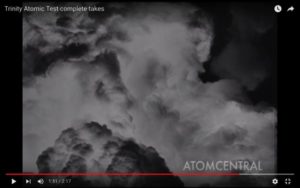 At 1:20, drummer Chris Frantz appears to have become a musical Sisyphus, dragging a heavy accordion up a steep hill.
And then we see sparring, rotating men wearing business suits and Mexican luchador masks (1:45). I can't explain why this ten-second montage rings so true to me, but it does.
Does the stop-motion animation beginning at 2:55 looks familiar? That's because it inspired the subsequent video for Peter Gabriel's "Sledgehammer."
Covering Road to Nowhere
At the 2016 MWROC Festival, I needed a set-closer to follow my new electric viola tone poem, Array of Irrevocable Light. Since "Array" digs deeply into nuclear wonders, threats, and problems, "Road to Nowhere" seemed a fitting conclusion. Why? Well, consider David Byrne's summary of the song: "I wanted to write a song that presented a resigned, even joyful look at doom." Although I intended to take my audience to some dark places, I also wanted to leave them joyful.
A few notable covers of "Road to Nowhere" exist. (For example, check out Jars of Clay or the Young at Heart Chorus). For my unique spin, I added violins, cello, and rhythm viola to the original orchestration. To me, the song feels as timely today as it did when I first spun Little Creatures in 1986.  Enjoy!