This February, I escaped the icy Boston winter to perform and teach in Spain for a week. (Because the weather was so nice, and the food so good, this may need to become an annual trip!)
Barcelona, Spain Hosts an International Strings Conference
At the invitation of Berklee alumnus, Oriol Saña, I served as a guest artist at the 2018 Barcelona Fiddle Congress, hosted by the Escola Superior de Musica de Catalunya.  Every two years, this Congress gathers leading improvising string players to share their artistry with participants of all ages. This year's faculty included American string wizards Mimi Rabson, Christian Howes, and Casey Driessen, alongside more than a dozen Spanish virtuosi and French jazz violinist Fiona Monbet.
During the day, we taught intensive 90 minute classes.  In advance, I prepared a welcome video to introduce myself and summarize my five workshop topics:
If you couldn't attend, but wish you had, you might appreciate my articles on mastering Blues, Texas Fiddling, the Free Jazz of Leroy Jenkins, and Walking in Mozart's Shoes.
During the conference, faculty shared and refined a notation system for percussive bow chopping. We will make this document available in the near future; stay tuned!
Performances from the Barcelona, Spain's 2018 Fiddle Congress
At night, we performed and jammed, often until the wee hours of the morning. Playing in a trio with Mimi Rabson and Berklee alumna Marta Roma proved especially thrilling for me. I'm still hoping to get a video of the Spain premiere of my trio "Sokcho Blues."
But here's Christian Howes's inspired blues jam on"Back in the Chicken Shack," which I captured on my iPhone:
The endless jams on traditional Catalonian tunes continue to ring in my heart.  Can you sense the joy of this inspired performance of "Charrada Teo de los Talaos" and "Corrido Tio Encinas?" Onstage are Blanca Altable, Chuchi Cuadrado, Alfonso Franco, Diego Galaz, Quico Pugés, Begoña Riobó, and Xosé Liz:
For me, the absolute highlight was a culminating concert with 1200 students at the Museu Nacional d'Art de Catalunya. Enjoy a highlight video featuring some improvised viola from yours truly: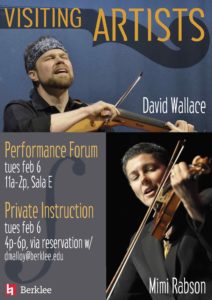 Visiting Berklee College of Music's Campus in Valencia, Spain
Following the Barcelona Fiddle Congress, Mimi Rabson and I traveled south with Casey Driessen.  At Berklee's Valencia campus, Casey serves as Program Director of the Masters Degree in Contemporary Performance (Production Concentration). During our visit, Mimi and I taught private lessons, visited labs, observed recording sessions, and coached diverse bands. I also met with Berklee administration to discuss our new first-year abroad program.
Truly, I fell in love with Spain, its culture, its music, and its people. I cannot wait to return!
Doc Wallace, March 1, 2018