Tonight, Hat Trick's Garden of Joys and Sorrows received a Grammy nod at the 2018 Grammy awards. Our album appears among nine projects listed in support of producer David Frost's Producer of the Year, Classical Grammy win.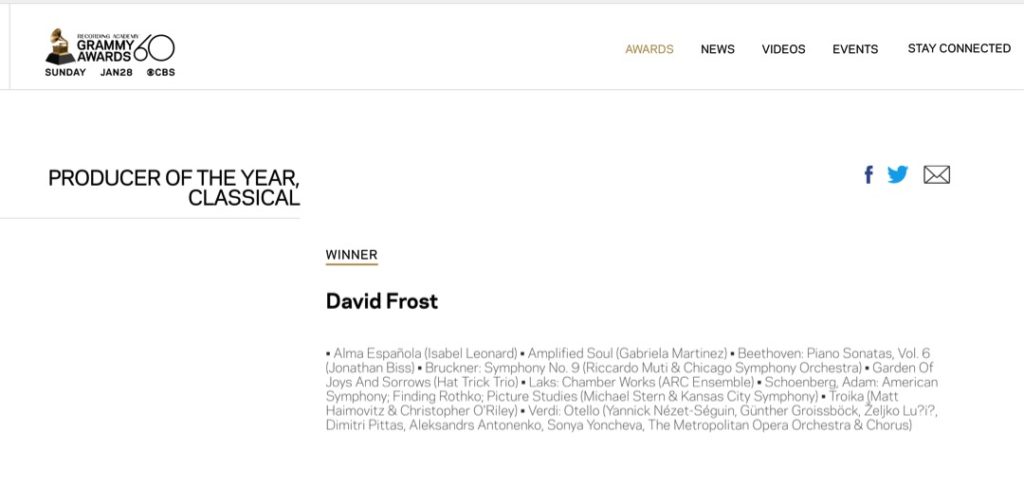 Working with a Master Producer
So what's it like to work with a multi-Grammy-winning producer? The first thing David Frost's clients will mention is his incredible ears. David internalizes the scores, hears everything, catches everything. Going the extra mile, a few days before we went to the American Academy of Arts and Letters to record, David attended a concert in which we performed all of our album's repertoire.
David knows whether he's got everything he needs for the master, or whether he needs just one more take. On multiple occasions, he kept us from needlessly spinning our wheels by letting us know he had everything he needed.
In terms of interpretation, David allowed us free reign. Throughout, he supported our vision of our repertoire, rather than instructing us or superimposing his will. At the same time, he often posed good questions or clarifying opinions. With Sofia Gubaidulina's Garten von Freuden und Traurigkeiten, whenever we would get too "in the weeds" or literal about certain score details, he refocused us on conveying the overall gestures. An excellent listener, David produces records with the listener in mind.
David remains remarkably calm and low-key throughout the recording process. I cannot tell you how helpful his supportive calm can be when you're exhausted, wrestling to perfect a fiendishly difficult section, or simply recharging during a break.
With his decades of experience, David Frost deeply understands the psychology and physiology of musicians. On our first evening of recording, our goal was to finish Theodore Dubois' Terzettino. At a certain point, David interjected through the talk mic:
"You know, I think you all sound tired. We could keep going tonight, but honestly, I think we should go home. If everyone gets a good night's sleep, we can knock this out tomorrow morning in no time."
He was right.
Mixing with a Master Producer
David Frost primarily mixed the album on his own, sending us reference tracks for comments. After two mixes, Hat Trick did spend one day listening to the entire album in David's home studio. Realtime conversations can save a tremendous amount of time, and nothing substitutes for hearing a record in an acoustically neutral room with professional monitoring speakers.
Generally speaking, David does what his clients request. However, he also believes that artists can squelch the humanity from a recording if they over-edit or digitally correct everything. As a group, we always trusted and deferred to David's editing instincts. We don't regret it.
How Did We Engage a Producer of the Year?
You may be wondering how we came to work with such a great producer in the first place. Actually, I knew David Frost because we lived in the same building, and he had heard me perform a number of times. Having a preexisting relationship helped, but so did the stellar reputation of my colleague, flutist April Clayton.
In 2011, after receiving a substantial grant from Brigham Young University, April approached me about making a recording and potentially reforming our flute-viola-harp trio. (Back in 1999-2000, we had performed quite a bit in a trio with harpist Bridget Kibbey as the Ridgewood Trio). April has a solid discography, including her debut CD Flûte Agréable, produced by multi-Grammy-winning producer, Max Wilcox.
April contacted David, and after meeting in person, we established a tentative plan, schedule, and budget. After reading with many harpists, we formed Hat Trick with Allegra Lilly, performing for a full year. Once Allegra won the audition for Principal Harpist of the St. Louis Symphony and amicably left the group, Duo Scorpio's Kristi Shade masterfully took the helm. With the personnel and repertoire firmly in place, we confirmed our agreement with David Frost and scheduled our recording sessions for December 15-18, 2014.
Yes, this Grammy nod actually marks a journey that began seven years ago.  You can hear the full Garden of Joys and Sorrows on this YouTube playlist.  If you like it, please help support our future projects with your purchase or download:
If you are interested in my personal discography, click here.
Doc Wallace, January 28, 2018